Tour to Taiwan Industry Local Manufacturer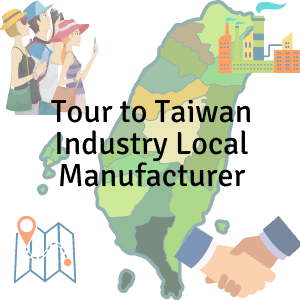 History
Welcome to Business Travel Service Company, my name is Harry Yen, general manager.
We founded the company in 2016, which consist of 6 people in the beginning, now growing up to 11 people.
People in company are specialized in many fields of industry, including precision metal parts, plastic injection and so on, and we have a common hobby is traveling.
So that, we come up a idea, why not start up a company that serves every business man in different fields to find the best supplier in Taiwan?
And that, it is a good timing to discover supplier in Taiwan due to trade war between China and U.S. In Taiwan, we could provide high quality products, good lead time and competitive price for customers.
Our goal is to discover the best supplier in Taiwan.


Procedure
We could pick up customers from airport, and drive customers to airport finally, we will follow instructions, and provide good suggestion to help customers to find the best supplier in Taiwan. Customers can trust us, and feel free to have a business trip. If you have more time, we can drive you to visit sightseeing spots of Taiwan !!


Category:
CNC Precision Metal Parts Factory:Turning Parts, Milling Parts, Stamping Parts ...and so on.
Plastic Injection Factory
Target Location:
*New Taipei City
*Taoyuan City


Service :
*Professional Translator
*Experienced Tour Guide
*Comfortable Car
*Impressed Memory


If you have any questions, please visit our fan page of facebook, or e-mail to manager Harry Yen harry5232@gmail.com